More Blog Posts
19.1 Scoring
1 week down! We had an incredible turnout and participation for this first week. I'm going to give both teams until Wednesday to do the following things for me so that I can ensure I didn't make any errors in the scoring or teams:
Check to ensure that you are listed on the correct team in this updated teams list, sorted alphabetically:

Check the 19.1 Scoring page (it's a view-only, Google sheets page) and make sure I didn't forget to give someone credit for attendance or make a mistake with the CFD leaderboard.

Angie took home the title of Spirit award for 19.1 as an individual from her sweet team headbands, earning Team Rubber 3 points!
Team Turf took home the Team Spirit award for their combined efforts in and out of the gym earning 5 points!

Finally, let me know who your team captain is. This person is going to be the individual who is going to give me your team's official prediction point input!
In addition, due to the Team Turf having one more person than Team Rubber, I'm going to award 1 additional point to Turf each week to make up for that difference. That's the equivalent of having a guaranteed extra attendance point but one less person to potentially get top 3 in any category.
WITH THAT SAID….
Unless some new information comes in or I made a mistake, Team Rubber is in a 1 point lead over Team Turf on week 1 of the 2019 Opens with a score of 37-36!
19.2 Scoring
Here is how the scoring will work for next week: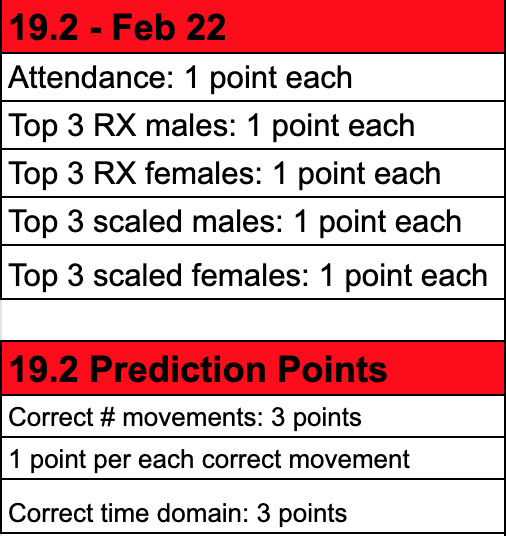 19.2 Prediction Points (DUE NLT 5pm CST ON THURSDAYS):
3 points if a team guessed the correct # of movements:

If a team correctly guesses that the workout will be a couplet (2 movements), they get 3 points.

1 point per each correct movement guessed per team:

ie: If a team guessed pull-ups and deadlifts and only deadlifts were in the workout, they are awarded 1 point. If both pull-ups and deadlifts are in the workout, they are awarded 2 points.
A team can't enter more movements than they guessed would be in the workout.

For guessing the correct time domain, the team will be awarded 3 points:

An option for the correct time domain may be 'For time.'
Another viable option may also be 'Increasing' for those workouts we have seen in the past that have granted athletes the ability to 'buy' more time by completing work within a smaller time window.
That's all for now! Reach out anytime.
-Coach Phil
---
Not a member? Sign up for an Intro Class today! The next Intro class takes place on March 2nd at 10:00, and Foundations starts the next week (March 5th).
RSVP to the free Intro Class here!