More Blog Posts
19.2 Scores and Upcoming Events
There are so many things I have to announce to you all today – fair warning, this is a long post and there are a lot of parts to it!
19.2 Scores are in!
After another week, the scores are still REALLY close, but from what I can tell, Team Rubber is holding a 1-point lead over Team Turf after 19.2! Both teams scored 35 points in 19.2. Check my math and make sure everything looks right!
Prediction points: Turf – 5 points, Rubber – 2 points

Team turf correctly predicted a triplet, whereas team rubber guessed 4 movements, awarding Turf 3 points. Both teams guessed 2 of the movements correctly earning 2 points each, while neither team correctly guessed the time domain (ascending).

Top 3 points: Turf – 4 points, Rubber – 6 points

Top 3 RX male: Chase (Rubber), Art (Turf), Matt F (none)
Top 3 RX female: Maddy (Turf), Katie (none), Tammy K (Rubber)
Top 3 scale male: Micah (Rubber), Chad (Rubber), Dustin (Turf)
Top 3 scale female: April (Rubber), Nicky (Rubber), Carolyn (Turf)

Attendance: Turf – 26 points, Rubber, 27 points
Currently, my count is Team Turf – 71 points, Team Rubber – 72 points
19.3 Scoring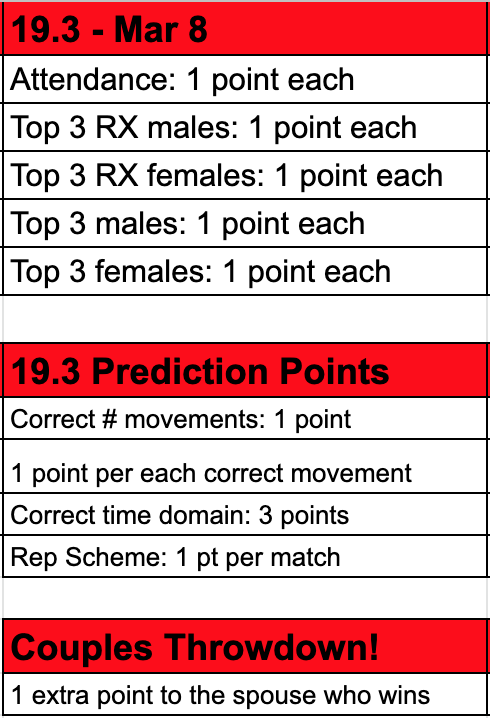 New to 19.3: Couples Throwdown and Rep Scheme prediction:
Rep Scheme Prediction points: 1 point per matching number.

ex: Team guesses 21-15-9 but the correct scheme is 18-15-12-9-6-3, team gets 2 points (for 15 and 9 matching). HOWEVER, for every 3 numbers that are NOT included in the rep scheme, you lose 1 of the points you would have gained. This means that the example above would net 1 total point. If only 2 numbers don't match, you don't get a penalty. This is to discourage people from guessing a descending rep scheme from 100 down by 1's! You cannot get a negative number of points though, so make your best realistic guess!

Couples Throwdown: if a spouse/bf/gf/etc beats their partner's score, they earn an additional point for their team. Doesn't count for mistresses or side-flings…keep it classy, everyone! 😉
Cardio Club and FS 2
We've had fantastic success with Cardio Club this year with 10 people completing a 1/2 marathon row! Also, this week is the Foundational Strength 2 re-test week, and numbers are already coming in. Keep up the great work, everyone!

Stay tuned for Gymnastics Club launching this Spring 2019!
Apparel Orders
Click here to see the mock-ups and order sheets for your CFD gear!
St. Patrick's Day CFD Pub Crawl
I'm pumped to announce more specifics about the plans for St. Patrick's Day! Saturday, March 16th we will be starting at Jubeck New World Brewing at 2pm and heading south on Main Street around 4pm after that. Updates will be made on the FB event page, so keep tabs on our whereabouts and I'll see you all there!
2019 Opens After-Party
I know, it's basically two weekends in a row, but I wanted to put a get-together in the books for everyone to come out and celebrate the closing of the 2019 Opens! It's going to be an informal gathering beginning at 6:30pm on the 22nd of March. I'll do my best to get the scores together so we can announce a winner shortly after the 5:30pm class is done! Check out the FB event page for this and I hope to see you all there!
2019 Classic Registration is LIVE!
Registration for the 2019 Classic is LIVE, and I'm hoping many of you get signed up for the early registration of only $105/team of 3! That's only $35/person with 5 events AND a shirt (mockups to follow, but you WON'T be disappointed!). Check out the FB event and stay posted for announcements and sneak peeks. The registration form can be found here for download:
I know…that was a lot, but that's all for now. Reach out anytime and I'll see you all soon!
---
Not a member? Sign up for an Intro Class today!  The next Intro class takes place on April 6th at 10:00, and Foundations starts the next week (April 9th).
RSVP to the free Intro Class here!