More Blog Posts
20.2 In the Books!
Click here to see the full scoreboard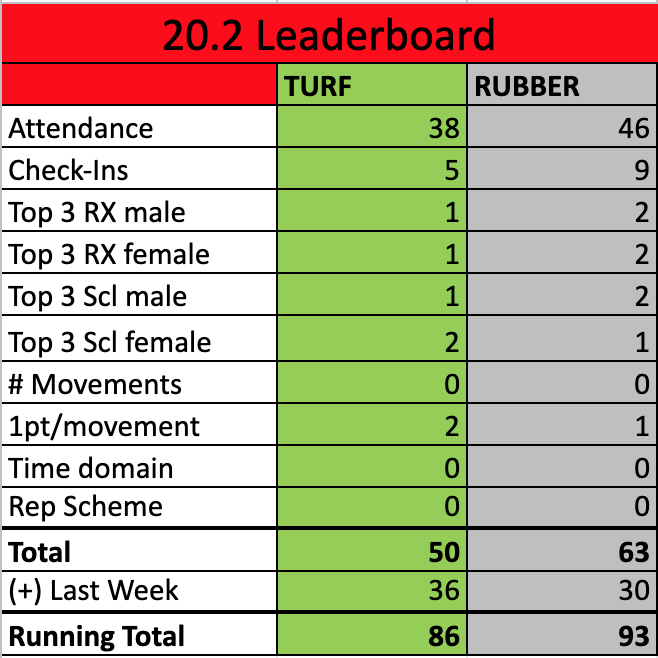 Attendance/Check-Ins
Rubber took a substantial lead with both Check-Ins and overall Attendance (9 and 23, respectively) compared to Turf's 5 and 19.
*Attendance was worth 2 points this week
Podium
Even with Turf holding 3 of the 4 1st place spots, Rubber held more Top 3 placings overall, earning them 9 total points over Turf's 5.
Prediction Points
Team Rubber's prediction was a 12 min AMRAP of:
2 rounds of:

50ft weighted walking lunge
16 T2B
8 PC

then, 2 rounds of:

50ft weighted walking lunge
16 BMU
8 PC
Since they predicted T2B, they earned one point; otherwise, the # movements, time domain, and rep ranges all missed the mark
Team Turf's prediction was a 12 min AMRAP of:
10 T2B
10 SC
50 double-unders
and THEN a 12 min AMRAP of:
10 BMU
10 SC
50 double-unders
Turf's successful prediction of both double-unders and T2B earned them 2 points; otherwise, all other opportunities for points were missed.
On a side note, there certainly seems to be spies in our midst! LOL
We're Just Getting Started!
Even with Rubber coming from behind to take the lead during 20.2, remember: the scoring gets weighted heavier as the weeks progress. At 93-86 Rubber, a 7-point lead this early in the game is no cause to celebrate or despair. Coordinate with your friends to ensure attendance and check-ins are high in the weeks to come, and don't forget – 20.3 has a COSTUME contest as well!
20.3 Scoring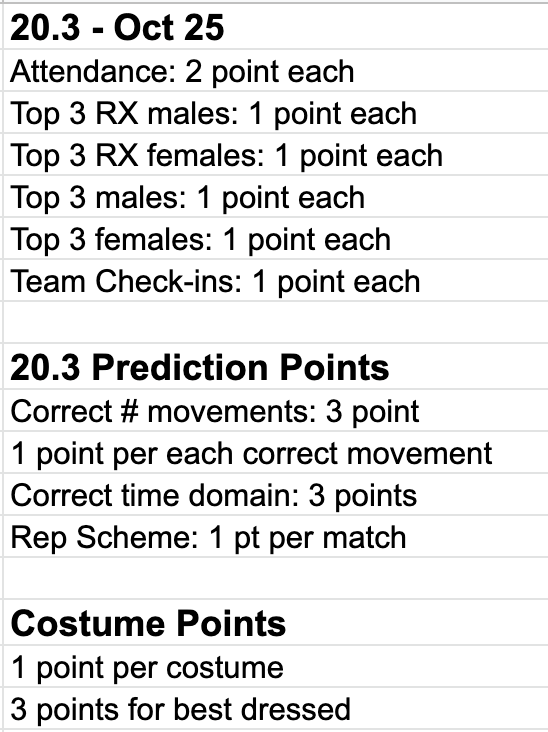 ---
Not a member? Sign up today! The next Intro class takes place on November 2nd at 10:00. RSVP to the free Intro Class or e-mail us today to set up an appointment!