More Blog Posts
20.3 In the Books!
Click here to see the full scoreboard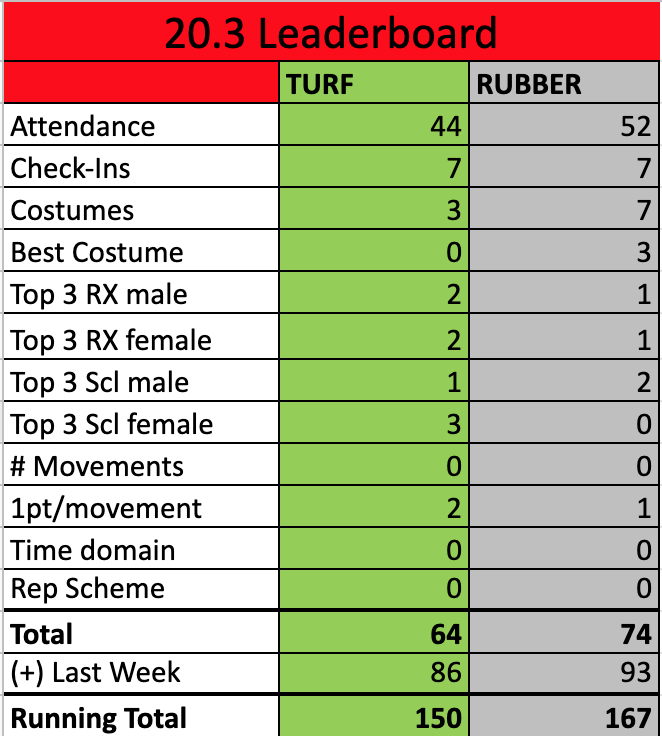 Best Dressed
Brent (Team Rubber) took the cake with Best Dressed, earning his team an additional 3 points!
*Please let me know if I missed anyone's attendance, check-in, or costume!
Podium
Turf occupied 9 of the 12 podium spots this week!!! Great work!
Prediction Points
Team Rubber's prediction was a 25 min AMRAP of:
5 HSPU
10 C2B
15 box jumps
25ft OH walking lunge
Since they predicted HSPU, they earned one point; otherwise, the # movements, time domain, and rep ranges all missed the mark
Team Turf's prediction was a 13 min cap (For Time) of:
55 DL
55 wall ball
55 cal row
55 HSPU
Turf's successful prediction of both deadlifts and handstand pushups earned them 2 points; otherwise, all other opportunities for points were missed.
We're Just Getting Started!
With only two weeks to go, the gap between the teams is very tight – it's definitely anyone's game! Also, Attendance and Check-Ins are worth more starting next week (3 and 2, respectively), the Podium Points double, and the Prediction Points are increased as well, so opportunities to earn points continue to get weighted heavier towards the end.
20.4 Scoring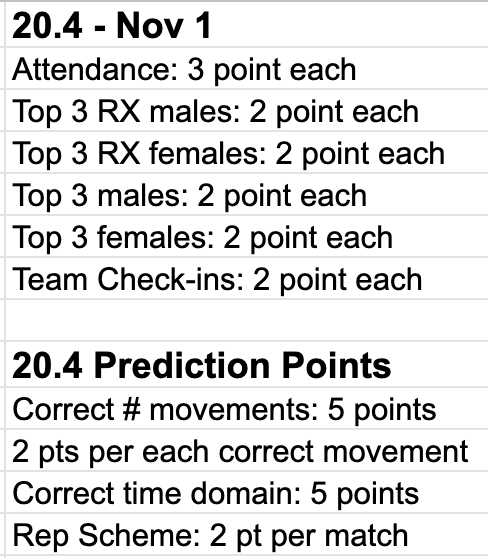 ---
Not a member? Sign up today! The next Intro class takes place on November 2nd at 10:00. RSVP to the free Intro Class or e-mail us today to set up an appointment!