More Blog Posts
February Spotlight–Kylie DeWees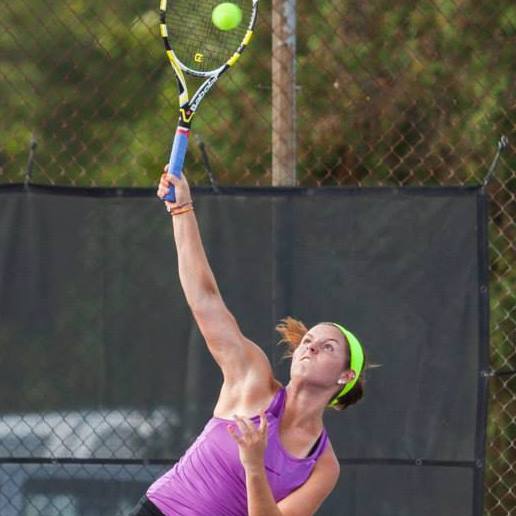 1. How long have you been a member at CFD, and what made you want to get started?
I have been a member at CFD since May of 2016. People had told me about CrossFit since I was in high school but Jamie convinced me to come watch The Classic in house competition. I emailed Phil the night after the competition and was signed up for foundations the next month.
2. What changes have you seen in yourself since your very first day?
I initially wanted to start CrossFit to make me a better athlete on the tennis court. Tennis being a very one sided, push, sport made me very low back injury prone. My senior year of high school, at state, I had to be carried off the tennis court by my coach and taken to the hospital. I spent the next 2 and a half months not being able to do any activity other than walk. This felt like an eternity to me but I knew I had to be healthy to play tennis at Loras College. I was healthy in the beginning of my tennis season my freshman year of college but by the end of the season I ran into the same problem with my low back. I went to Dr. Dan at Spine & Sport (plug☺). I remember Dr. Dan saying "It's better for me to lift a barbell than to use a machine" then told me a little bit about CrossFit. After that is when I started talking to people about CrossFit and Jamie encouraged me to check out CFD. (Thanks Jamie ☺) People were a little apprehensive when they found out I was doing CrossFit because they thought I would hurt my back again. To their, and my surprise the exact opposite happened. As months went by with CrossFit I began to gain strength in places I didn't know existed. Through a variety of power, strength, and gymnastics movements I have balanced out my strength in all planes of motion. I have never felt more powerful in tennis than after I joined CFD. Not only has CFD helped me physically in tennis but it's allowed me to push myself past my limits and show me it's ok to be out of my comfort zone because that's where the true "gains" (I know, I'm sorry) happen. It's allowed me to push myself not only in the gym, but in the classroom, and personally as well.
If it wasn't for CFD I don't believe I'd be going on to pursue my master's degree. One day in August I was sitting on the rower next to Sandy (If you don't know Sandy, you're missing out). I had not known her a very long time and she asked me what I was going to do after I graduate this coming May. I told her that I was probably just going to stay in Dubuque and keep the job I have now. To my surprise, she responded with "Well don't you just think you're kind of just taking the easy way out? What about grad school?" I was a little taken back since I had only known her a short time but I believe people are put in your life at the right time and at that point in my life there was nothing more I needed to hear than that. After that workout I tried to brush off what she said because I had a "plan" for after graduation and I didn't want to change it. Over the next couple weeks what Sandy said kept repeating in my head and I couldn't swing it. I'm graduating a year early from Loras College which leaves me with one more year of NCAA eligibility. I talked to my current tennis coach and asked him what he thought about me going to grad school and playing another year of tennis. He encouraged me to look at a couple of schools and sent them a recruiting video (yes my DU had a small part in it ;)). Long story short I have committed to play tennis at Minnesota State where I will earn my Master's of Science in Sport Management. Without CFD I can honestly say I would not be the athlete I have become to play at the next level and would not have had the confidence to go on to grad school. Thanks to everyone at CFD to pushing me to be better each day. You all truly mean the world to me.
3. What did you do for fitness prior to CFD, and what do you like most about CrossFit?
My dad used to be big into bodybuilding so he's had me lift since I was in 7th grade. I've also done insanity, tennis lifting, and sometimes I play a sport called tennis.
4. What type(s) of workouts are your favorite?
I love me some double unders and cleans. Put them together and you'll see me smile (close to) the way I smile at pizza.
5. What type(s) of workouts do you least like to see come up?
Gymnastic movements. Thrusters. Deadlifts. Not my fav.
6. What are you goals going forward?
My goals going forward are (complete sentence☺) to increase my strength in the Olympic lifts. I hope to compete in Olympic weightlifting competition within the next year. Also to improve my gymnastics movements (yes all of them).
7. What advice do you have for someone just starting out at CFD?
Don't die. Ok, well, that and don't be afraid to try a new lift or skill. When I first started CrossFit I didn't think it was physically possible for me to flip onto the wall and would always walk up. After some peer pressure I eventually gave it a try and now Kristin and I will have contests to see who can flip up and hold a handstand the longest. Being in a community of people that all wants to improve themselves and each other is a dangerously positive combination. Utilize it.
---
Not a member? Sign up for an Intro Class.
RSVP