More Blog Posts
January Spotlight – Ryan D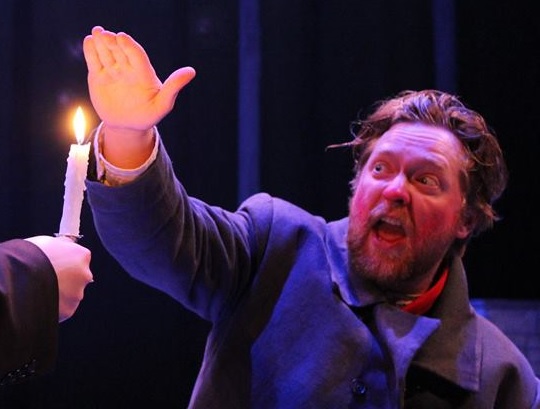 How long have you been a member at CFD?
A bit over a year and a half.
What made you want to get started?
I had a whole lot of unexpected life changes happen very suddenly and got caught in the "Big Sad"- for a long time. I needed to change what I was doing to change how I was feeling. Going to the gym was part of that strategy. Strength training was the only high school "sport" I ever enjoyed, and I know Lincoln from way back, so I decided to give CFD a try.
What is your favorite gym music?
'80s rock and pop punk. (I'm a super angsty teenager at heart. You can see it in hair sometimes. Been listening to a lot of Queen, Bowie and MCR lately.)
What did you do for fitness prior to joining CFD?
My friend Dave and I used to (and still do) go on a lot of "fat walks" together. I also pace a lot while I'm reading and editing. Other than that, my fitness was dependent on whatever my current acting or directing project was – dance, stage combat, circus, etc. But there ain't a whole lot of that going on right now…
What changes have you seen in yourself since you started?
I've burned off a bunch of fat since emerging from my depression coma and coming to CFD. This is the least fluffy I've ever been. (A lot of that happened during this COVID summer. I had nothing better to do… well, I had nothing to do… so I made a habit of coming more often.) I'm also starting to notice some muscle definition happening, which isn't a thing I thought my body did. Overall, I am in the best physical shape I have ever been in, right now.
What do you like most about CrossFit?
I like that it changes all the time and someone tells me what to do. I think a lot, and I don't want to. It's nice to just show up and "go with it."
What type(s) of workouts are your favorite?
Deadlifts and Strong Man. I like brute force, "move heavy shit" workouts. They're cool. (Plus, my legs are great.)
What type(s) of workouts do you least like to see come up?
Fuck wallballs.
Have you ever chalked up to do something that didn't require chalk?
Old-timey fisticuffs.
What is your go-to junk food?
I cannot resist candy. My sweet-tooth is crazy. I once ate nothing but sour worms and Reece's peanut butter cups for nine months. Honest to God.
What are your goals going forward?
At the very least, I'd like to maintain my current fatness-level. I don't set a whole lot of expectations when it comes to this area of my life. It hadn't been going well til recently. It'd be pretty cool to go from an Andy Dwyer- to Peter Quill-situation, tho! I'm somewhere in the middle now. At the end of the day, I have been feeling a lot better, and that's why I started. If I can keep feeling good, I can keep being surprised by the other results.
What advice do you have for someone just starting out at CFD?
Just show up and do it. My mantra is: "I can do anything for one hour." It took a while, but coming to CFD eventually switched from a should-do thing to a want-to do thing. For me, that's huge. There's not a lot of things I want to do. At all. Many things are stupid. And suck. But this isn't one of them. If you're like me – a lover of routine and hater of change – just show up and do it. Then show up and do it, again. And again.
---
Interested to see if CFD is a good fit for you? Sign up for a free introductory class, or e-mail us if the available intro classes don't work with your schedule!