More Blog Posts
July Spotlight – Jon A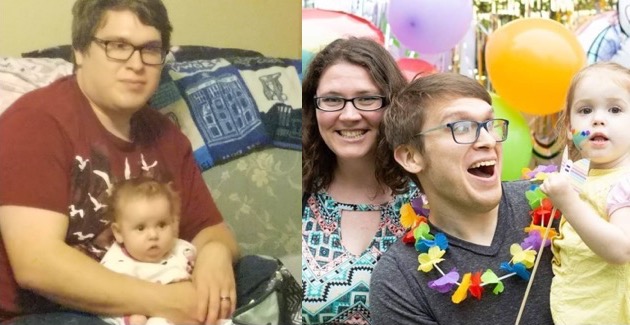 How long have you been a member at CFD?
Since October of last year.
What made you want to get started?
Honestly, I was tired of not being able to keep up with my toddler. I was horribly out of shape—the epitome of dad bods. Carrying my daughter up the stairs was the greatest leg exercise of my day. My friends Kristine and Hillary kept telling me over and over again how amazing CFD was, so when I saw an opening for one of the trial workouts, I signed up to give it a try. It was one of the best decisions I ever made.
What is your favorite gym music?
My favorite gym music is usually the stuff that Mike picks out during the 5:15 classes. It's usually some classic rock or some of my favorites like Breaking Benjamin.
What did you do for fitness prior to joining CFD?
Unless chasing a toddler counts, nothing. Before CFD I never did a single clean or lunge or thruster or any of that shite. I had maybe spent a total of 30 minutes in a gym over the last 10 years. Growing up, I was the kid who was always picked last for teams, utterly hated gym class, and would try forging sick letters from his parents during the Presidential Fitness Test days. Today, because of the support I've received at CFD, I truly enjoy coming to workouts. I look forward to them.
What changes have you seen in yourself since you started?
CrossFit helped me discover a better me. Since joining CFD I've lost 65 pounds, and I've dropped quite a few pant sizes. That said, CFD isn't a weight loss program­: it's a community; it's a support team; it's fun; it's unimaginably challenging; and if you trust the process it will absolutely help you get stronger and lead a healthier lifestyle. Because of CFD, I feel better than I have ever felt in my life. Playtime with my daughter doesn't burn me out anymore, and I have the energy I need to be the kind of dad I want to be.
What do you like most about CrossFit?
The community at CFD is the thing that sets it aside. It's what keeps me coming back again and again. CFD is my family. I want to see my CFG friends get better, and they want to see me kick ass too, and that is amazing. That spirit is the RX to success.
What type(s) of workouts are your favorite?
Maybe I'm a masochist, but anything with running for time because it pushes me past my comfort zone. I like being pushed to catch up to the person ahead of you or to stay ahead of the footsteps behind you. Team workouts are always fun too.
What type(s) of workouts do you least like to see come up?
Anything with double-unders, just because I really really really suck at jumping rope.
What are your goals going forward?
I think my biggest goal is to beat Hillary or Dustin at something, and by next October, I'd like to do an RX workout and get my double-unders down.
Have you ever won the warmup?
Define win? No one told me that was a contest, but yes I have. 🙂
What advice do you have for someone just starting out at CFD?
The greatest advice I could have for someone just starting out or considering joining CFD is to believe you can do it. If this dad who was afraid of gyms can do it, so can you. You got this! Trust in the process.
---
Not a member? Sign up today!  The next Intro class takes place on July 6th at 10:00. RSVP to the free Intro Class or e-mail us today to set up an appointment!