More Blog Posts
Updated Leaderboard and 19.4 Scoring
*update 12 noon 09MAR: Lincoln did the workout on Saturday (which is why it's not on WODhopper) and edged Micah G out by 1 point, returning the split to 109-107 with Team Rubber in the lead by 2
*update 11:30am 09MAR: Mary K was accidentally scored for the wrong team on the top 3 scaled female leaderboard – after correction, the points are 110-106 Team Rubber
The results are in and it's still a very tight race! Neither team had much luck with the prediction points with each team earning only one point (HSPUs), and each team had identical attendance points. However, Team turf took the lead on 3 of the 4 'Top 3 Leaderboards,' but Team Rubber took the majority of the 'Spouse Throwdown' points, resulting in a 35-35 tie in 19.3! This means Team Rubber is still in the lead overall with a narrow 2-point margin over Team Turf, 109-107. Check out the latest leaderboard page and make sure I didn't miscalculate anyone's points!
19.4 Scoring
The pieces scored are the same, but the point value just got bumped to another level for 19.4 – check out how your team can earn points this next week: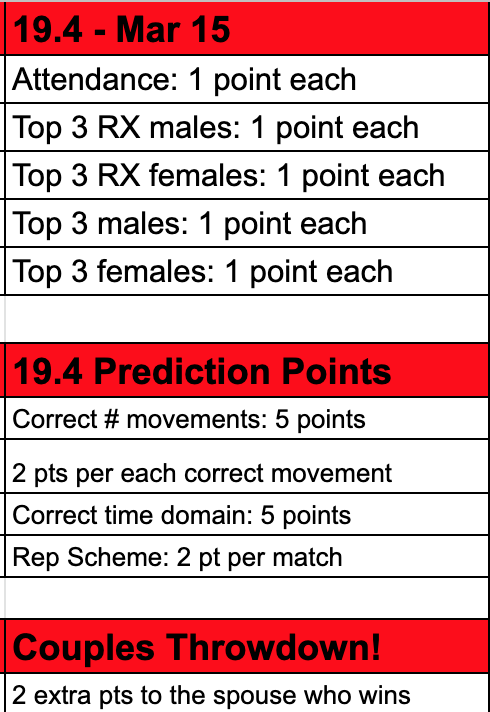 See you all next week for 19.4!
---
Not a member? Sign up for an Intro Class today! The next Intro class takes place on April 6th at 10:00, and Foundations starts the next week (April 9th).
RSVP to the free Intro Class here!