More Blog Posts
St. Patrick's Day & 19.4 Scoring
St. Patrick's Day CFD Pub Crawl
Don't forget, this Saturday, March 16th we will be celebrating St. Patrick's Day! We will be starting at Jubeck New World Brewing at 2pm and heading south on Main Street around 4pm after that. Updates will be made on the FB event page, so keep tabs on our whereabouts and I'll see you all there!
2019 Opens After-Party
I know, it's basically two weekends in a row, but I wanted to put a get-together in the books for everyone to come out and celebrate the closing of the 2019 Opens! It's going to be an informal gathering beginning at 6:30pm on the 22nd of March – or, by all means, come out and support the 5:30pm class as they finish up the last bit of 19.5! I'll do my best to get the scores together so we can announce a winner shortly after class is over. Check out the FB event page for this and I hope to see you all there!
19.4 Scoring
Here's how your team can earn points this week: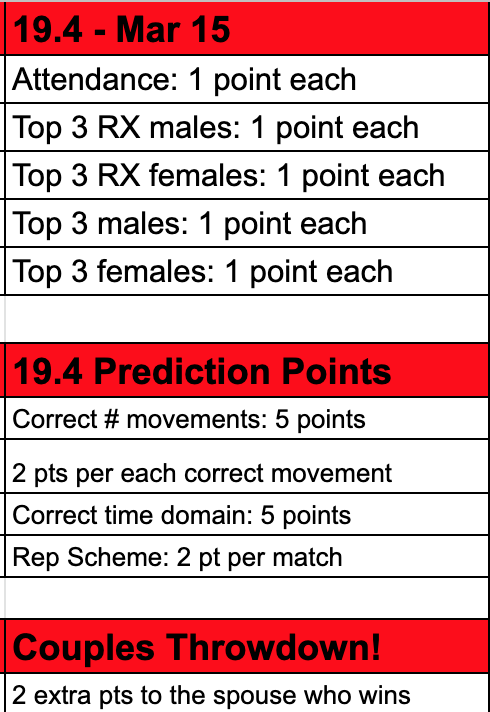 Currently, the score is incredibly close with Team Rubber in a 1-point lead over Team Turf: 108-107!!! Check out the leaderboard here

---
Not a member? Sign up for an Intro Class today! The next Intro class takes place on April 6th at 10:00, and Foundations starts the next week (April 9th).
RSVP to the free Intro Class here!