More Blog Posts
The Last Week!
2019 Opens After-Party
First of all, don't forget that this Friday (March 22nd) we will be gathering at CFD for a final Opens workout celebration! I'll work to have the scores ready just as soon as the 5:30pm class is done and will announce the winners at that time. You're all encouraged to come out and support the 5:30pm class as they bring it home and then stick around for the announcement and some socializing! Check out the FB event page for this and I hope to see you all there!
19.5 Scoring
Here's how your team can earn points this week: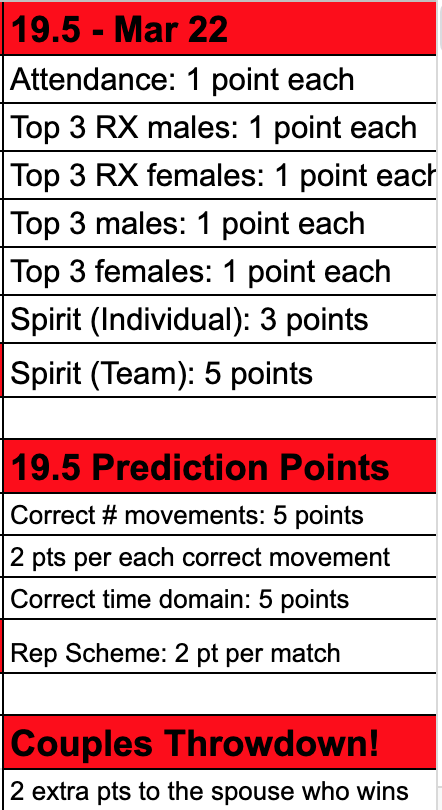 Currently, the score is 161-153 with Team Rubber in a sizeable (but certainly not insurmountable) lead! In fact, if it weren't for Rubber killing the 19.4 prediction points, Turf would be in the lead. Just goes to show how close this race still is! Check out the leaderboard here and make sure I didn't miss any points or make any errors in the top 3 categories, couples throwdowns, or attendance!
---
Not a member? Sign up for an Intro Class today! The next Intro class takes place on April 6th at 10:00, and Foundations starts the next week (April 9th).
RSVP to the free Intro Class here!